Before and after nose surgery illustrations
Learn more about plastic surgery of the nose with plastic surgeon Dr. Zevon by viewing graphic illustrations of the rhinoplasty cosmetic surgery procedure. You will see how a typical patient might look before rhinoplasty surgery, during the rhinoplasty procedure, and after rhinoplasty surgery.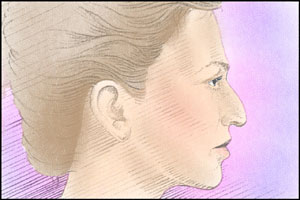 Rhinoplasty patient shown before nose surgery with large nose, nasal hump, enlarged tip and nose that hangs slightly where it meets the upper lip.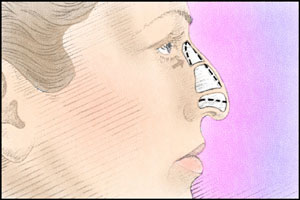 Incisions are made inside the nose to provide access to cartilage and bone which can be cut and reshaped to alter the external appearance of the nose. The bridge of the nose can be narrowed by moving the bone inward, as shown by the arrow.


Areas where cartilage and bone have been readjusted to improve the shape of the nose are shown.


The postoperative nose surgery patient with smaller nose, a straight nasal bridge, better defined nasal tip and an improved angle between nose and upper lip.

Rhinoplasty illustrations provided by the American Society for Aesthetic Plastic Surgery.